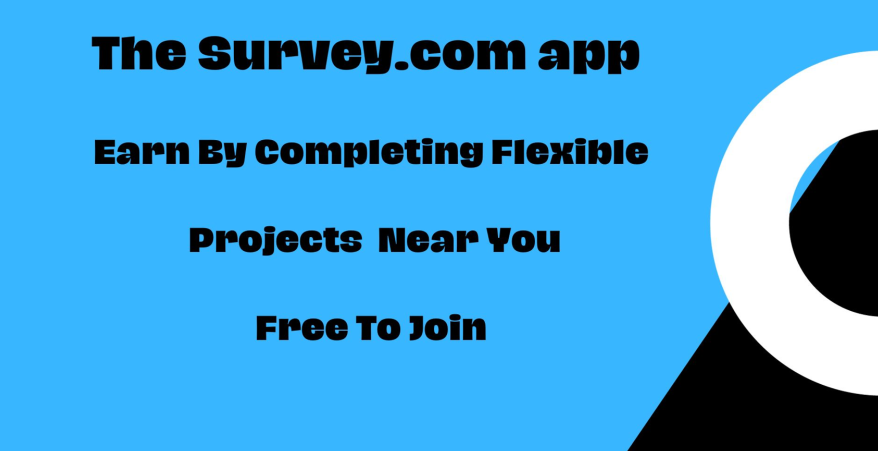 Thousands of online sites, each promising to reward you for participating in a program. But does The UserTribe deliver on that promise?
This post is written based on the information and testimonials available online in the public domain.
Survey.com does not offer survey-earning opportunities but provides retailers with merchandising knowledge and market research.
They work with over 325,000 mobile-powered merchandisers; you make money with Survey.com by completing flexible projects in local stores near you.
Survey.com merchandisers earning opportunity is open to USA citizens 18 years and above.
Download the App To Start Earning
Download the "Merchandiser" Survey.com app on your smartphone to get started. The app is free on Google Play or the App Store.
The earning opportunity – Projects
 Once registered and downloaded their Merchandiser app, you will gain access to their earning opportunity called "Projects."
The Merchandiser app will check your location first to determine the available projects.
The "Projects", in the "projects," you could be asked to complete in-person projects such as store audits, product demos, merchandising, and resets. They add new projects daily.
The Good thing about the opportunity is you get to choose when and where you work.
Survey.com shares details, deadlines, and your expected pay upon completion.-
 Projects range from 5 minutes to 4-8 hour shifts, and you can make up to $150/day.
. You must complete the project within the given time to ensure your rating is maintained.
If you fail to complete projects often, you can no longer claim any project and earn from the Merchandiser.
You can also request the assignments you want and complete the work by following the instructions on the app.
  Project Participation Requirements
The projects assigned require participants to have the following skills:
Must be able to lift to 35 lbs
Must have reliable transportation
Strong communication skills
Must be punctual
Must have the ability to follow instructions
Own an iOS or Android device
Type of Work Assignments
Once registered with a given project, you are given tasks that range from very simple to more complicated, depending on your prior experience.
Adding stickers to products
Stocking shelves or coolers
Setting up promo displays
Presenting sell sheets to retail staff
Inventory audits
Retail resets
Most audit, merchandising, and brand ambassador projects pay between $5 and $25 per store. Resets and product demos pay around $15 per hour.
Refer Friends
You can earn up to $100 in referral bonuses for each person you refer. Share your referral code with people you would like to use the app.
You'll be tied to their account once they download the app and enter your code when they register.
When Survey.com approves their visits, you get a bonus equal to 10% of whatever they earn.
 For example, when they complete a $10 audit, you get a $1 bonus. You continue earning 10% bonuses until you reach $100 from each person you referred. There's no time frame or expiration.
Sweepstakes
There is also the opportunity to win prizes; look out for announcements on social media or the app and website for sweepstakes opportunities.
How do you get paid?
Receive the payment for the project precisely 6. days from the deliverables submission date after the Merchandiser approval).
You can get paid via direct deposit or pre-paid debit card once you have an account for Openforce.
Is Survey.Com Legit
Survey.com is a legit company., and does offer a way to make some money online; however, a site like this does not offer a way to make substantial money.
Survey.com does offer Offers an exciting way to earn, Low payout threshold, and the app is easy to use
However, the earning opportunities are limited, and the rewards are low.
UserTribe is legit and would make a perfect side hustle, but if you are looking for something to bring you a more substantial income, there are many ways to make a significant income online.

But by far, the most effective way is affiliate marketing. What is Affiliate Marketing?
Affiliate marketing is a specialized form of marketing where an advertiser seeks to advertise or sell products or services through an affiliate network.
There is more to affiliate marketing if you want to be successful in this business.
Building a blog is one of the best methods to build an affiliate marketing business.
You can produce a blog about the product or company you are affiliated with or blend the product or service into your posts with related topics.
Low or no-cost start-up
No product needed
Flexible work settings
No sales experience is required
Huge customer base
The Cons of affiliate marketing are it is more challenging than answering surveys, testing apps, or anything like that.
Affiliate marketing is not a get-rich-quick business; it requires work, time, consistency, and patience.
It also requires training; you can find all the information about affiliate marketing on the internet, but it is in multiple places, and that would require you to know what to search for.
Fortunately, they are platforms that offer training in affiliate marketing. And the best one is the platform I am a part of, Wealthy Affiliate.
Wealthy Affiliate is a training platform built for all affiliate marketers, newbies, those with some knowledge of affiliate marketing, and expert affiliate marketing. (you can start for free HERE.)
Wealthy Affiliate
Wealthy Affiliate teaches you how to start your own online business through comprehensive training that takes you step by step on how to do everything.
The lessons are easy to use and organized to track your progress to ensure you know where you are in the course and tasks at the end of each class to ensure you build your online business as you learn.
This training feature helps you move forward to take action on the lessons you just learned; I couldn't think of a better way to apply what you learned right away to your new website.
At Wealthy Affiliate, you can learn as you go, with a beginner-friendly and online approach, with people who have already achieved results, and you can learn and get the mentoring you need
Yes, Affiliate marketing does work. Wealthy Affiliate's strategy is for the long term, meaning you will not see results right away  with the online business; you need to give it time to build, to gain authority in search engines' eyes,
Affiliate marketing is not a get-rich venture, but when done right, the rewards can be significant; there is a saying Entrepreneurship is living a few years of your life like most people won't so you can spend the rest of your life like most people can't.this is very accurate.
 Thanks for stopping by. I hope you found the information helpful; please share. If you have any questions, please do not hesitate to ask.
NOTE:  This post includes affiliate links, which, if clicked on and a product purchased, I get a small commission (with no increase to you)