Top concerns for retiring boomers
Many baby boomers, born between the years 1946-1964, have the lowest rate of poverty among all age groups according to the Census Bureau.
This group was born during the years of post-war prosperity.  They were also the generation of fighters trying to survive and thrive.
The characteristics of the baby boomers tell us they are fighters, self-reliant. And hard-working
But after years of hard work and it's time to enter the glorious retirement age, they have to battle a new set of problems.
With inflation rising against the cost of living, it's becoming harder for those living on a fixed income to pay their bills.
Because of this many boomers nearing the age of retirement are making the decision to delay their retirement until they reach their 70s and beyond in order to maintain their current standard of living.
And some of us who are already retired and had to go back to working and are looking for even more ways to earn some money to help make ends meet.
There are also retirees who own homes and would like to be able to use home equity as a way to supplement their income but are afraid of being scammed.
Being Able to Afford Retirement
According to this survey conducted by the AARP, boomers can't afford to retire. In fact, nearly half of Americans 50 and over have $25,000 or less saved for retirement.
This article also suggests that many baby boomers don't have a realistic view of retirement, and as a result, are not putting in enough effort preparing for it.
It has now become the norm to be working past age 65 because of economic necessity.
Many have also taken the necessary steps of ways to cut down on their expenses there are those who have taken the steps to downsize their homes in order to raise money for their retirement.
Will there be Social Security for me?
There is the possibility that Social security may not be around for the next generation.
Baby boomers now strive to live more simply, as they realize that their savings are not enough to keep them living the way they are used to.
Caring for their elderly parents
Not only do boomers have to survive on their pension but in some cases, they have to take care of their parents as well.
That's a lot of emotional and financial strain put many baby boomers' and along with the unpredictability of what the future holds in the way of their financial well-being, this could cause another kind of crisis that may lead to depression.
Health Issues
Living longer is a two-edged sword. Because we are living longer way into our 90s in some cases, this increase in longevity has also increased incidents of illnesses and disability.
This means planning for our retirement has to include our health care needs.
And this planning should the expense for long-term care. According to the Pennsylvania Health Care Association, Alzheimer's disease.
An estimated 70% of people currently turning 65 will require long-term care in their lifetime, and they will receive care for an average of 3 years.
I am afraid these problems will not be going away, especially since most of us are still healthy.
We can only hope that Medicare and social security will continue to be available for us and for the younger generations as well.
There is a solution that I know can and will help to alleviate the problem of needing an extra job, as this solution, will probably not suited for all of us.
Working beyond retirement age
Because of illness or disabilities, we will not be able to stand the rigors of working outside the home.
The other solution is working from the comforts of your home, This can be achieved by working online.
All you will need is a computer and access to the web via a Wi-Fi hookup, and this hookup can be done by your cable company.
In today's world and with today's technology almost every transaction can be done online, and because of this, there is a lot of opportunities to make an extra income without the hassle of leaving your home.
I used to go shopping in a store and looked through all the merchandise, sometimes just for the sake of looking. But now it seems that brick-and-mortar stores will soon be a thing of the past.
There are several jobs you can do online, from teaching to a customer service rep, you could also offer your service. And many other things.
Working from Home
I chose affiliate marketing, to be honest, I knew nothing  about affiliate marketing and was just impossible when it came to technical stuff, I wasn't even a good typist,
I found Wealthy Affiliate, now this company has a platform that was built for anyone who wants to be an online entrepreneur,
This platform is suited for people like myself or a very experienced online marketer.
This company has been in existence for 14 years and has a membership of over 1 million, it has also gained a reputation as one of the best hosting platforms.
There are two forms of membership the free and premium.
The free membership has no expiration date, you can remain free as long as you like, however, the information and tools that you will receive whit this type of membership is limited.
With the free membership, you will receive 10 lessons or phase 1 of our Online Entrepreneur Course,
This course comes with easy-to-understand video lessons, and there is no rush, you go at your own pace, you will be given the basic tools and information, to build your website, find your niche, get ready for the search engines, and start writing your content.
Here is a video of one of the lessons in phase 1
V
However, It is my opinion  that it would be in your best interest to upgrade to the premium membership,
Premium Membership
Members of the premium level show a 5 times more success rate. and for all that is included in the premium level the price is very reasonable
And with the premium membership, you will also have access to some live training videos, these are given once per week but the lessons are archived so you can access them anytime you wish.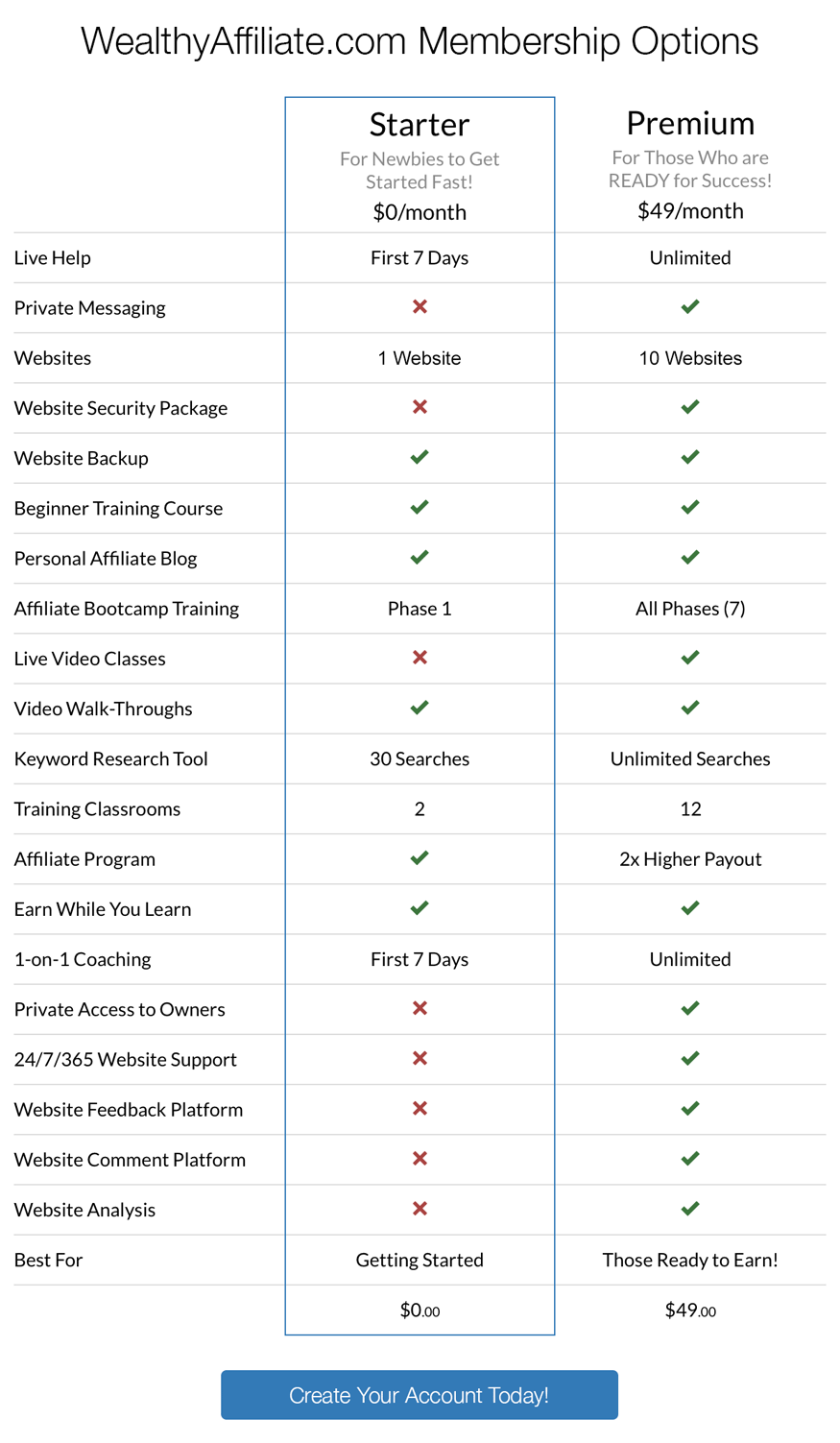 Another great asset of Wealthy Affiliate is its community, this awesome community is very active, and is full of like-minded ( in the sense that we all share the same goal, to be successful online marketers) people who are willing to assist you in attaining your goals.
And because our members consist of people from around the globe there is always someone on live chat to assist you.
Our Tech Support team
Our Tech Support team is the best, their response time is almost instantaneous, they are very courteous and knowledgeable, and best of all they can be contacted from your desktop with no extra cost, unlike some other platforms.
I must let you know that hosting your website and backup is free with both memberships.
If you do not necessarily want to do online marketing, you do not need to in order to be a member of Wealthy Affiliate,
Maybe you just need a website to do business for yourself, advertise your projects, sell your goods Wealthy Affiliate can be of benefit to you too.
I am inviting you to join us for free, have a look around I will be there to answer your questions and I would suggest If you want to see all that the premium has to offer, you can become a premium member in the first 7 days of your free membership for only $19.oo so take advantage of this offer
You can join from any link in this post and I will be your go-to person and I promise you I will assist you in any way I can.

There is nothing to lose by becoming a free member. There is no commitment to be made, you will not be asked for any financial information, you will be asked for your name and email address
I would suggest that you at least do the phase 1- 10 free lessons before deciding if you want to continue, that's what I did.
If you want to join a program that is legit and will deliver real value, the Wealthy Affiliate is that company
Please be careful and remember the internet is full of scams Wealthy Affiliate is NOT one of them, you are safe here.
Thank you so much for reading this post, hope you found it helpful and If there is anything I haven't covered or you have any other questions let me know in the space provided below this post.
NOTE:  This post includes affiliate links, which, if clicked on and a product purchased, I get a small commission (with no increase in cost to you).